[2PACKS] Solar Powered Mason Jar Hanging Lantern Lights Green Plants Led Fairy Firefly Jar String Lights for Outdoor Garden Pathway YK-SG8
[2PACKS] Solar Powered Mason Jar Hanging Lantern Lights Green Plants Led Fairy Firefly Jar String Lights for Outdoor Garden Pathway YK-SG8
5
stars, based on
12
reviews
Price:
$50.00$21.99 / [ 2 piece / Lot ]
Emitting Color

White
Blue
Green
Yellow
Changeable
ITEM SPECIFICS

DESCRIPTION

REVIEW
Item specifics
Number of Lights:
7 & Up
Number of light sources:
15~20
Lighting Area:
1-3 square meters
Outdoor Lighting Type:
Lights
Green Plant Included:
Yes
🔥Solar Powered Mason Jar Lantern Lights:4 pack 16oz glass mason jars with 20 LED bulbs fairy starry solar firefly string lights lids.
🔥Energy Saving & Environmental Protection:Solar charging panel on the lid top,100% solar powered,An ON/OFF swith underneath the lid,easy to set up.All you have to do is just expose the jar to sunlight and let it recharging itself(Slide the switch to the "ON" position during charging).600mA rechargable AAA battery include,generally charge under the sunlight 6-8 hours will light up 8-10 hours.Built-in light sensor ensure that it automatically turns on at dusk and turn off by dawn.
🔥Popular & Romantic Firefly Jar Lights:Very popular creative mason jar solar fairy firefly string jar lights with 20 warm white string lights,makes you a romantic and fairy surroundings,be good for decorations around your apartment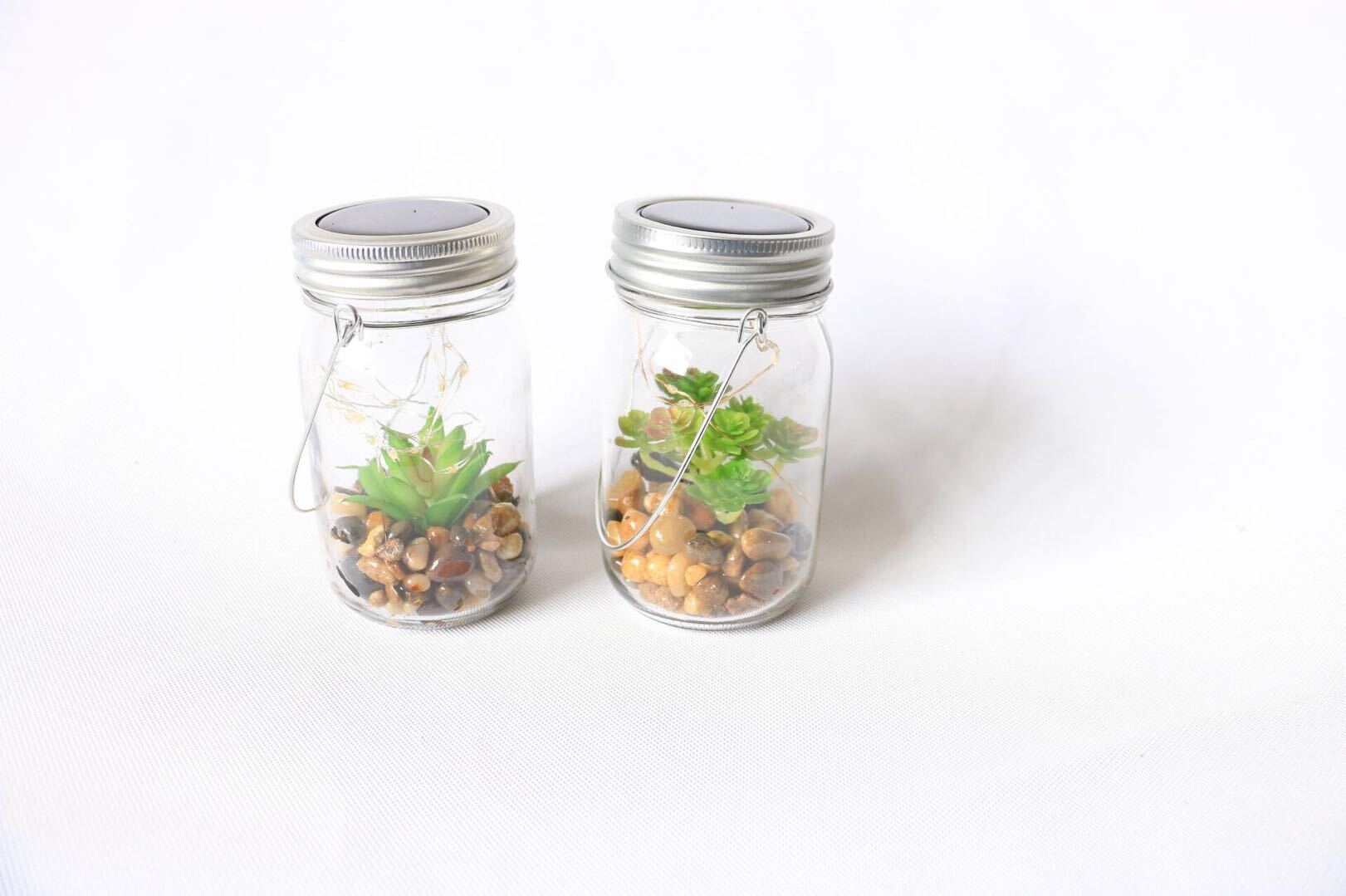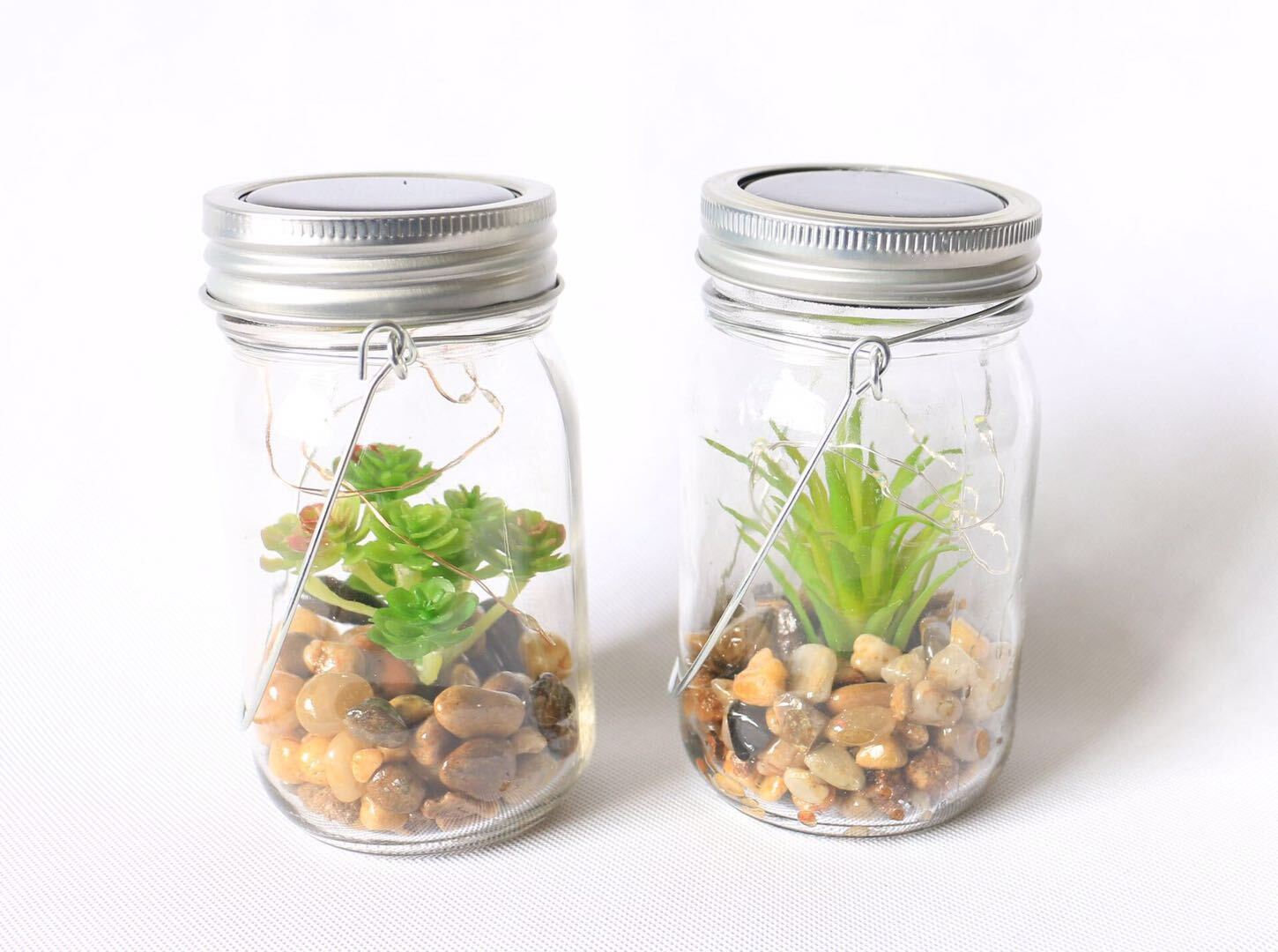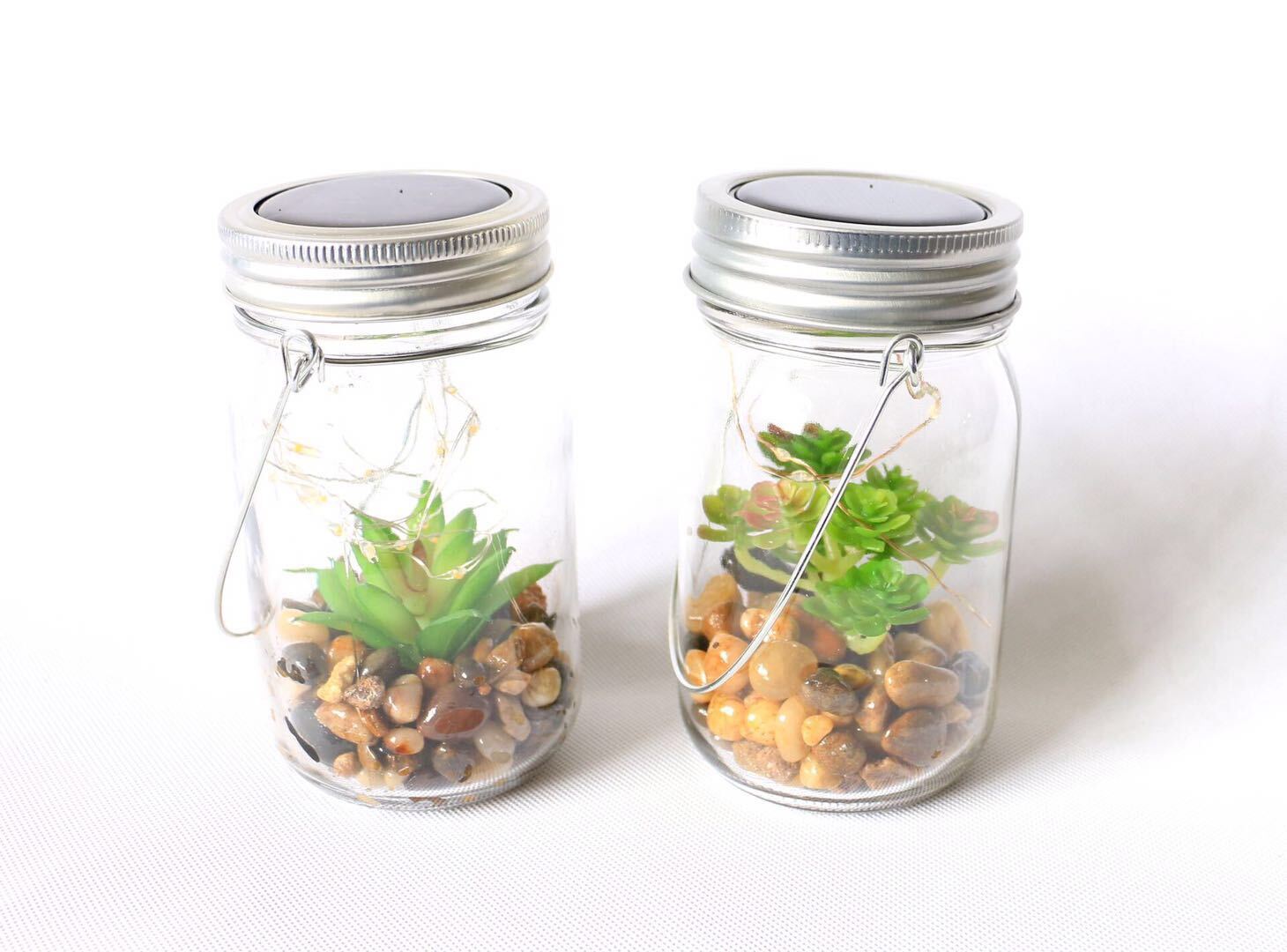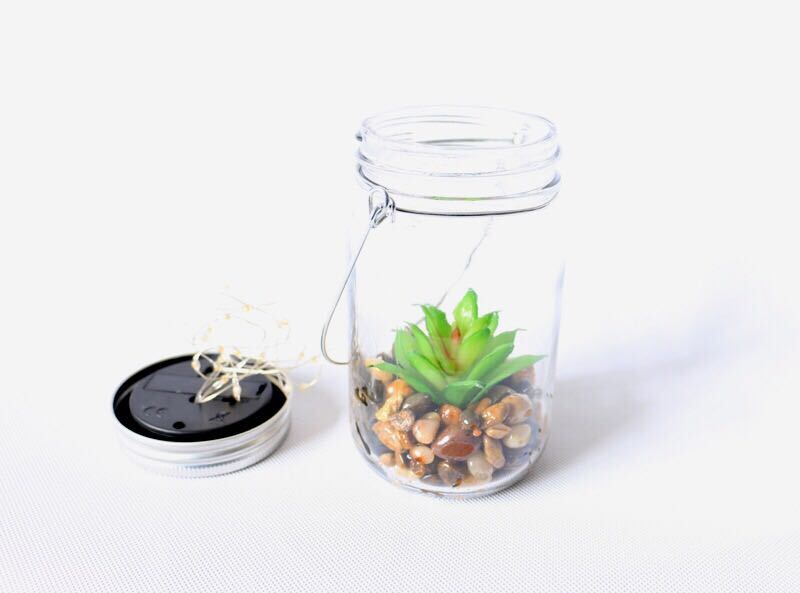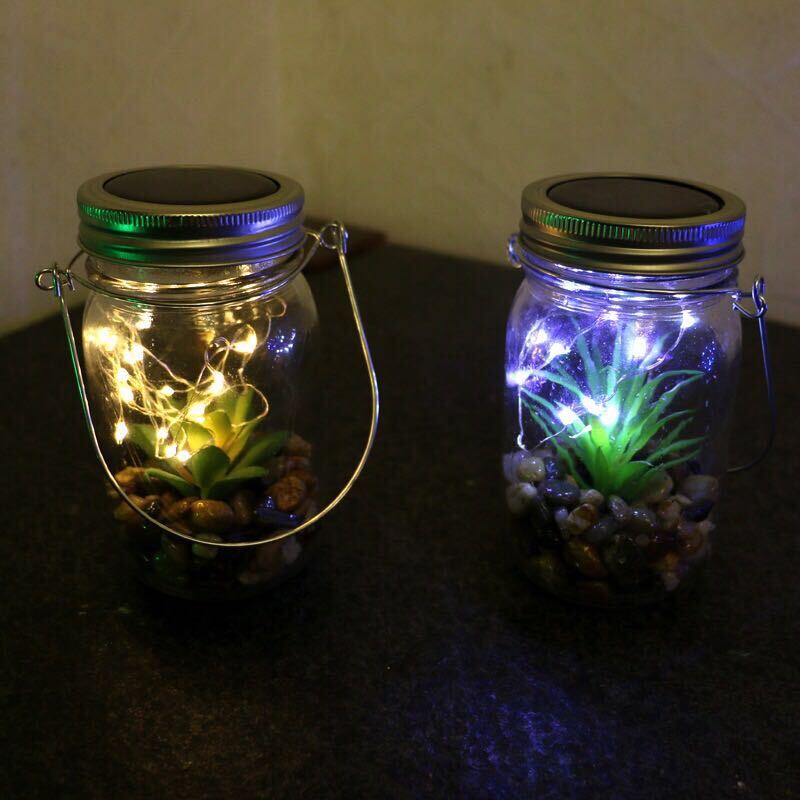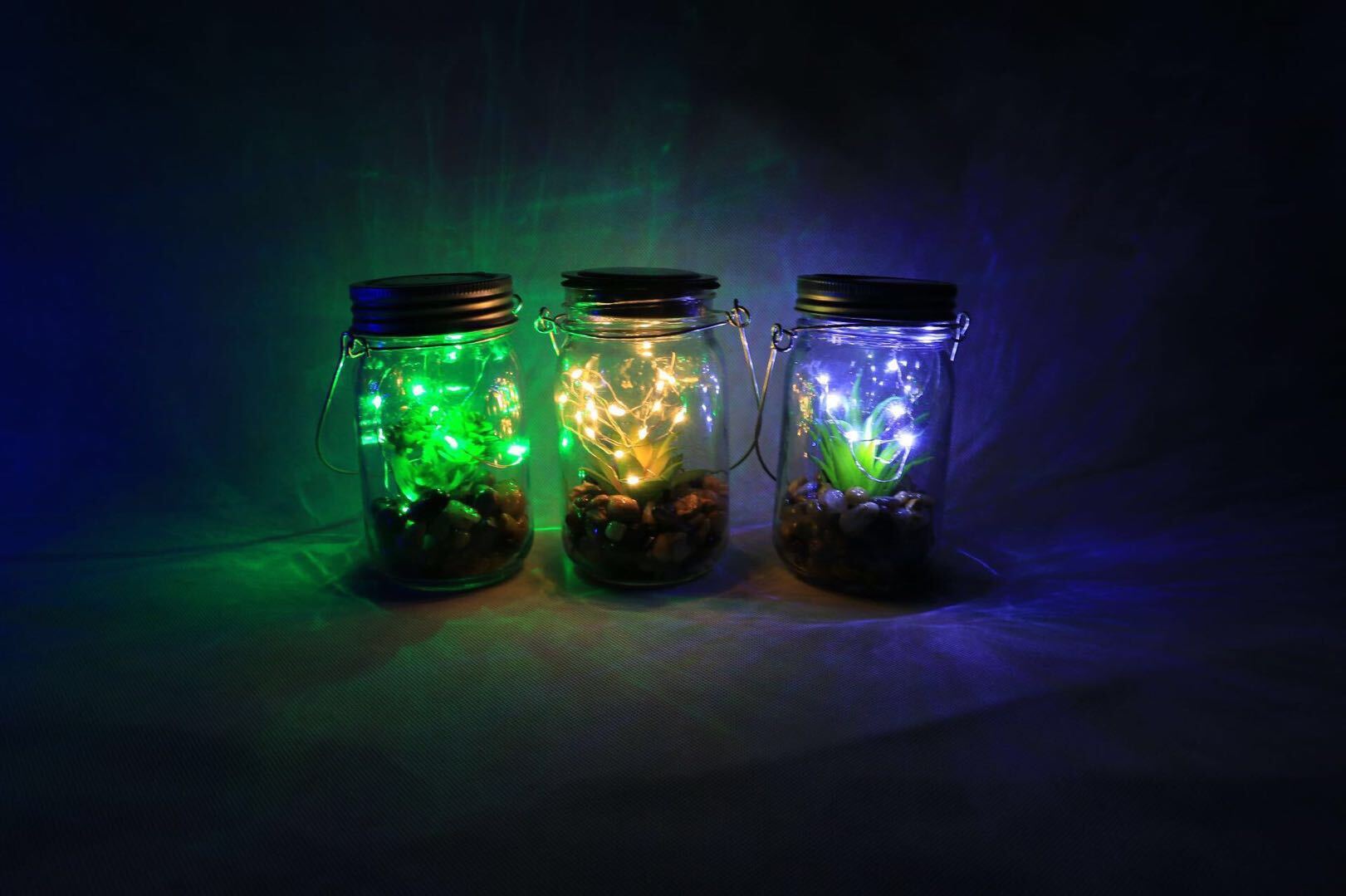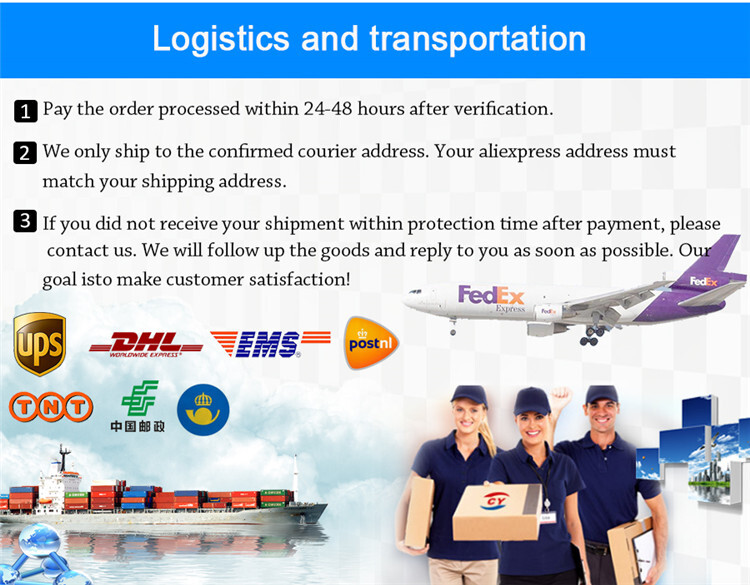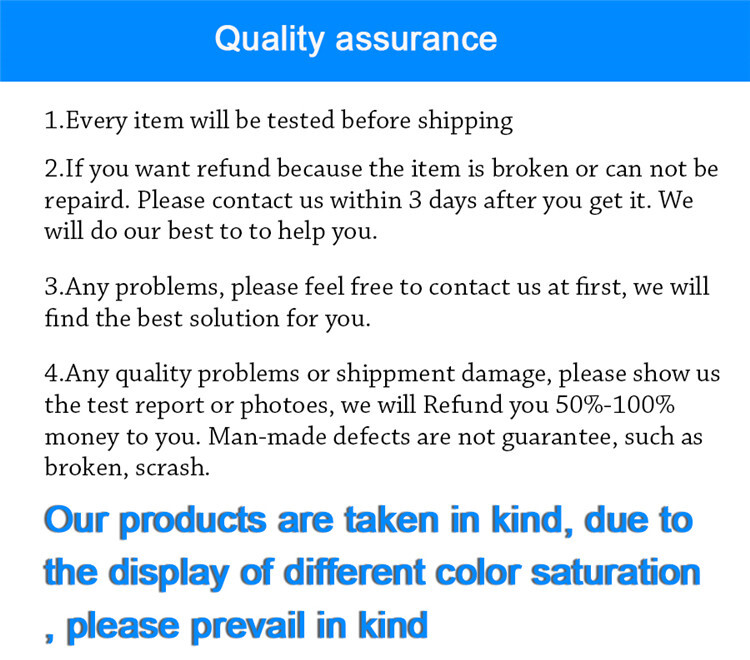 By JPMonday, 12 August 2019
Overall very happy with these lights; they charge up relatively quickly and stay lit for a long time, and are typically the first thing people compliment when they visit. I paired these with some large mason jars I picked up at a craft store and added some chain so they could be hung outside. Adds a nice lighting touch around dusk or if I am not in the mood for the bright outdoor lights. I was so impressed with these I ordered another set, and will be placing more of these around the yard. If you are using these outside like myself, I would suggest putting dielectric grease on the terminals and screws; this should help with any corrosion you might encounter.
By MWKWednesday, 07 August 2019
Love that this brand has an on/off switch under the lid. All had a bit of charge in the battery when I got them. Set them out in the sun for a full charge. Be careful unwinding the strand to put in the jars so you don't break it.
By Jan StroheckerFriday, 02 August 2019
Fantastic product - they work great! Last all night and are still going in the morning! Homeleo is a great company who backs their product and goes the extra mile to satisfy their customers. Thanks so much!
BySuzan ParrishMonday, 08 July 2019
Super satisfied. Pronto delivery and product top quality.
By mothera8Tuesday, 02 July 2019
Have here in Germany no Glass found on the the Cover fits, otherwise the Light Good
By foosdivaSaturday, 29 June 2019
Nice product, but won't it oxidize outside?
ByPappy SteveThursday, 20 June 2019
These are adorable and work so well! I got 4 lids with lights, two additional lights, and the stickers. And the 4 handles of course. Great quality and packaged in such a small box. They look so cute on my patio. Really happy I bought these.
By alohajamMonday, 06 May 2019
I absolutely love these! I'm on my second order and possibly going to order a third set. My only comment would be to possibly paint the top with a clear coat of something to prevent rust. I live in Hawaii and we have a lot of rain.
By M.B.Wednesday, 24 April 2019
I put them up when my wife was at work so by the time she got home they were already lit up. They really look fantastic, in the truest sense of the word. At night they appear to be floating like Dumbledore himself put them there. I used a black chain to hang them up and you can't even tell it's there at night. The glow they emit evokes an incredibly cozy, inviting feeling, and it's really just peaceful to look at. We even went back outside that evening to look at them, and I find myself frequently peeking out of the window just to check them out again. I was worried that, being mostly under the tree, they might not get enough sunlight to light up. So far so good though. One did not come on after an overcast day, but the next day it was back to full brightness. I'm absolutely pleased with these, and we'll probably get the same thing again to line the sidewalk. A nice feature would be if they sold a hanging kit with these. I just happened to have the chain, but I had to make my own hooks to hang everything. This doesn't detract from how nice these are, though. Absolutely 5 stars.
Search engine
Use this form to find things you need on this site